Sep 02, 2007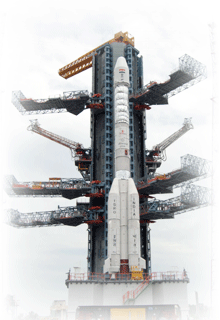 GSLV-F04 is the fifth flight of India's Geosynchronous Satellite launch Vehicle (GSLV), launched INSAT-4CR satellite, into a Geosynchronous Transfer Orbit (GTO) of 170 km perigee and 35,975 km apogee with an orbital inclination of 21.7 degree with respect to equator on September 2, 2007. Subsequently, the satellite was manoeuvred into geostationary orbit using its own propulsion system.
The 49 m tall GSLV, with a lift-off mass of 415 tonne, is a three-stage vehicle with solid, liquid and cryogenic stages. The first stage of GSLV, one of the largest in the world, uses Hydroxyl Terminated Polybutadiene (HTPB) based propellant. The second stage and the four strap-on motors surrounding the first stage use liquid propellant 'Vikas' engine burning UH25 and Nitrogen Tetraoxide. The third stage is a cryogenic stage using liquid Hydrogen as fuel and liquid Oxygen as oxidiser. GSLV employs S-band telemetry and C-band transponders for enabling vehicle performance monitoring, tracking, range safety / flight safety and Preliminary Orbit Determination.
The payload fairing, which is 7.8 m long and 3.4 m in diameter, protects the vehicle electronics and the spacecraft during its ascent through the atmosphere It is discarded when the vehicle reaches an altitude of about 115 km.
The Redundant Strap Down Inertial Navigation System/Inertial Guidance System of GSLV housed in its equipment bay guides the vehicle from lift-off to spacecraft injection. The digital auto-pilot and closed loop guidance scheme ensure the required attitude manoeuvre and guide injection of the spacecraft to the specified orbit.
GSLV-F04 was launched from Satish Dhawan Space Centre (SDSC) SHAR, Sriharikota, the spaceport of India. GSLV became operational after two developmental flights when it successfully launched GSAT-1 and GSAT-2 in 2001 and 2003 respectively. In its first operational flight in September 2004, GSLV launched EDUSAT - India's first dedicated satellite for educational services. However, the second operational flight, GSlV-F02, conducted on July 10, 2006 did not succeeding placing the satellite INSAT-4C into orbit.
PSLV- C9 stages at a glance
Parameter
GS1 (First Stage)
GS2 (Second Stage) (L37, 5H)
GS3 (Third Stage) (C12)
S139 Booster
L40H Strapon

Length (m)

20.13

19.7

11.56

8.7

Dia (m)

2.8

2.1

2.8

2.8

Propellant mass (t)

138

42

39

12.5

Case / Tank material

Maraging steel

Aluminium Alloy

Aluminium Alloy

Aluminium Alloy

Propellant

HTPB

UH25 and N2O4

UH25 AND N2O4

LH2 and LOX

Burn Time (s)

106.9

148

137

709

Max. Vac. Thrust (kN)

4768

763

799

73.5 (Normal)

Control System

Engine gimballing -Single Plane

Engine Gimalling – two place for pitch and yaw control, hot gas Reaction Control System (RCS) for roll control

2 Vernier engines for thrust phase control and cold gas RCS for cost phase control.