Handing over of Simulated Crew Module Structure Assembly for Test Vehicle Mission Home / Handing over of Simulated Crew Module Structure Assembly for Test Vehicle Mission
Feb 24, 2023
Today, VSSC/ISRO received Simulated Crew Module (SCM) Structure Assembly for the Gaganyaan project. This is an unpressurised Crew module where the interfaces of major systems like parachute systems and pyros are simulated. Also the shape and outside mold line is simulated as per the Crewed mission configuration. For the Crewed mission, the Crew Module is a pressurized capsule and accommodates the astronauts during the Gaganyaan mission. This first indigenous simulated Crew module is developed by VSSC and realized by Manjira Machine Builders Pvt Ltd., Hyderabad.
This module will be used for various missions like test Vehicle mission where the crew escape system will be validated along with validation of various subsystems of Crew Module.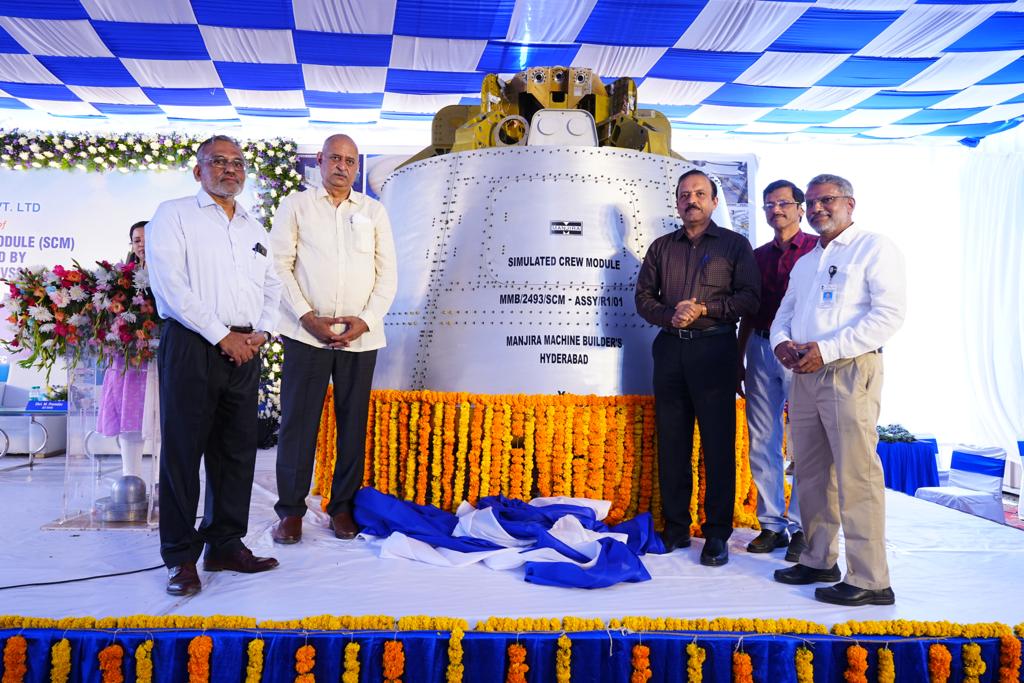 Dr. S. Unnikrishnan Nair, Director, VSSC received the module from Shri Ch. V.N. Sai Prakash, Managing Director of Manjira Machine Builders in a ceremony held at Manjira Machine Builders Pvt Ltd Campus at Hyderabad. Shri S Somanath, Chairman, ISRO/Secretary, Department of Space, and Dr. R Umamaheswaran, Director, HSFC graced the occasion through virtual presence.